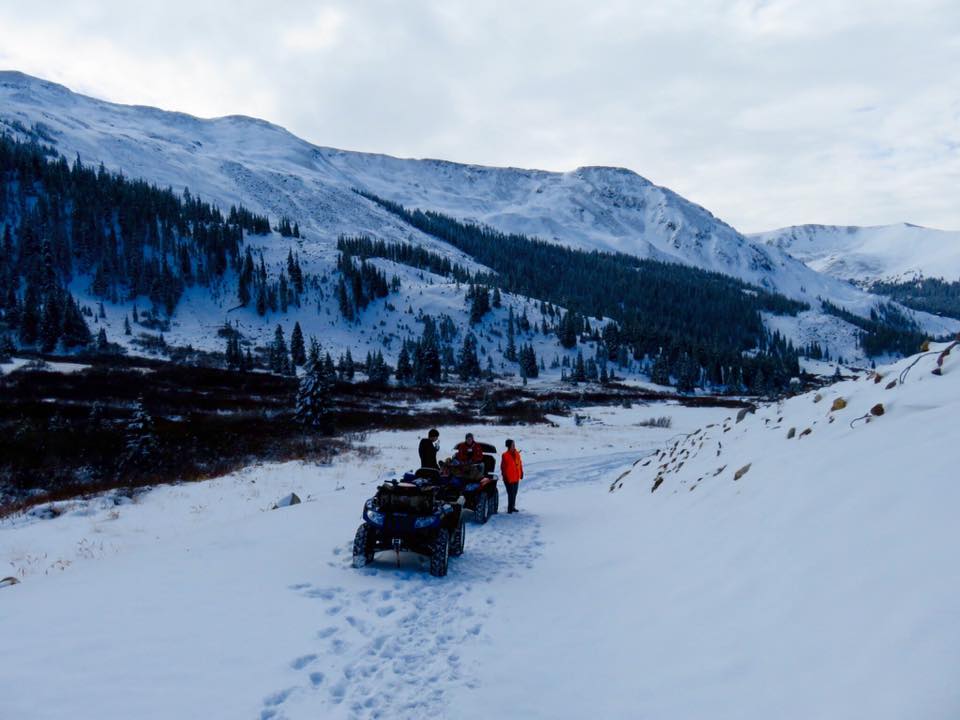 It is no secret that Breckenridge, Colorado is a winter town. With the season upon us, it is time to start planning your fun winter activities! Take a look at the top 10 activities and challenge yourself to try them all! Visit us at Ski Colorado for more information about Breck winter fun!
Breckenridge Ski Resort is one of the most popular ski resorts in the Western Hemisphere. It features five peaks, 2,908 acres of skiable terrain, four terrain parks, one superpie, bowl skiing, the highest chairlift in North America, and a fantastic ski school. With an average annual snowfall of 300 inches, almost every day is a powder day!
Imperial Express chairlift tops out at a whopping 12,840 feet above sea level. Weather permitting; it allows skiers and riders easy access to three high-alpine bowls and hike-to access to the famed Lake Chutes and Snow White areas of Peak 8. Ambitious athletes can also visit the 12,988 foot hike-to summit that is accessible from the top of Imperial Express.
Cross Country Skiing is an entirely different ballgame than downhill mountain skiing. Breckenridge features over 30 miles well-groomed trails that range in level of difficulty. Whether athletes are just starting to learn the sport or are old pros, there is plenty of terrain to be explored. Don't forget to explore the town's historical mining ruins!
Sledding is not a lost art. Classic adventurers will find that this old tradition is still very much alive. Visit Carter Park to sled, toboggan, or saucer down the winter tundra. This fun family activity is free!
*Did you know that Chevy Chase's Christmas Vacation famous sledding scene was filmed in Breckenridge?
Snowmobiling season is upon us. Breckenridge offers easy access to endless powder-covered snowmobiling trails that are unrivaled in scenic beauty. Both experienced and new riders can go full-throttle in the backcountry winter wonderland. Rentals are available through multiple outfitters.
Biking does not disappear in the winter. Those crazy, dedicated cyclists ride year-round in Breckenridge. Unless it is a powder day, bikers can be found cruising around on their very, very fat tires. Fat bikes can be rented from multiple outfitters throughout town but they do sell out quickly!
Dog sledding. Have you ever dreamt about Balto? Undoubtedly one of the most unique winter activities around, dog sledding is an amazing way to tour the Swan River Valley. Breckenridge's blue-eyed sled teams are energetic and very photo friendly!
Snowmen builders will love the wet, sticky snow that Breckenirdge receives! Feel free to construct your winter-time companion anywhere in town. Sometimes, locals even build their snow friends inside of tree runs.
My only question to you is, do you want to build a snowman?
Hut trips are an incredible, yet often forgotten way to spend the day. There are 25 backcountry huts scattered throughout the Rocky Mountains. If you are looking for the ultimate winter experience, then you must take a trek out to one of these cozy cabins. It is highly recommended that all interested parties are in good shape and have basic knowledge about avalanche terrain and rescue. To book, visit the Summits Hut Association page.
Hiking season does not come to an end when the snow flies! Some of the best and most beautiful trails are often not at their prime until the forest floor is covered with a blanket of fresh snow. In fact, several of Colorado's glorious 14ers are great winter day trips! Just be absolutely certain that you do not end up in an active avalanche chute. Dress in warm layers, wear waterproof shoes, and make sure that if you pack it in you also pack it out!