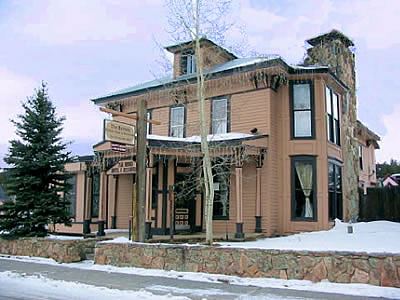 Breckenridge is not only a premiere ski resort town; it also happens to be the largest historic district in all of Colorado. With over 350 buildings registered in the National Historic Register, you can be sure that Breck's history is both rich and intriguing. According to local legend, the town's eerie past has led to the hauntings of several historic areas throughout the community.  Dive deeper into the stories of Breckenridge's former notorious inhabitants and decide for yourself: are the tales true? Are there really Breckenridge ghosts?
1. The most famous ghost in town haunts the historic Brown Hotel (presently closed for construction). Rumor has is that during the late 1800's, when the Brown Hotel was fully operational, a woman named Ms. Whitney frequently resided in one of the upstairs bedrooms. It has been said that Ms. Whitney was working on developing a new business plan for the hotel; she desired to turn the hotel into her own brothel. In order to complete her plan, Ms. Whitney seduced the hotel's owner. Eventually, he discovered her business plans and he shot her while she slept. Now, visitors claim that her ghost remains on the premises and she is less than pleased. Rumors have it that she haunts the women's bathroom, slams doors, and knocks over glasses. In theory, she remains in town because of her unfinished business with the hotel; and because prostitutes were once not allowed to be buried or receive proper funerals.
2. William Goodwin, the mangled miner. According to historical records, a Mr. William Goodwin once worked on one of Breckenridge's gold dredge ships. One day, Mr. Goodwin fell overboard and was declared to be missing. His body was later discovered by crew members when they turned off the conveyor to raise the boat's bucket ladder. Much to the crew's horror, Mr. Goodwin's body was discovered. The captain's log indicates that his body was barely recognizable; his torso was mangled and was barely attached, his appendages were broken and twisted, and his head had been smashed in. Today, visitors of "The Dredge", a replica of the old mining boat, claim that a ghostly man can be seen moving around in the upstairs bar area. Staff members also report a "presence" in the downstairs locker rooms. His ghost appears to be friendly.
3. At 900 feet below ground, Country Boy's 2000 feet of mining tunnels are the perfect place for ghosts to reside. Although there have been no documented accidents inside of the mine, visitors continue to insist that the tunnels are wandered by the dead. Tourists will often send their post-tour photos into the mine's owner. Often times, these images appear to have strange, ghost-like figures in them. One recent photo even shows a ghostly arm and miner's helmet. In addition, one of the current workers claims to have experienced a physical touch. He details that early one morning he felt a strong force to the back of his left shoulder; the force was great enough to push him forward.  Local legends of hauntings here date back to the 1930's!