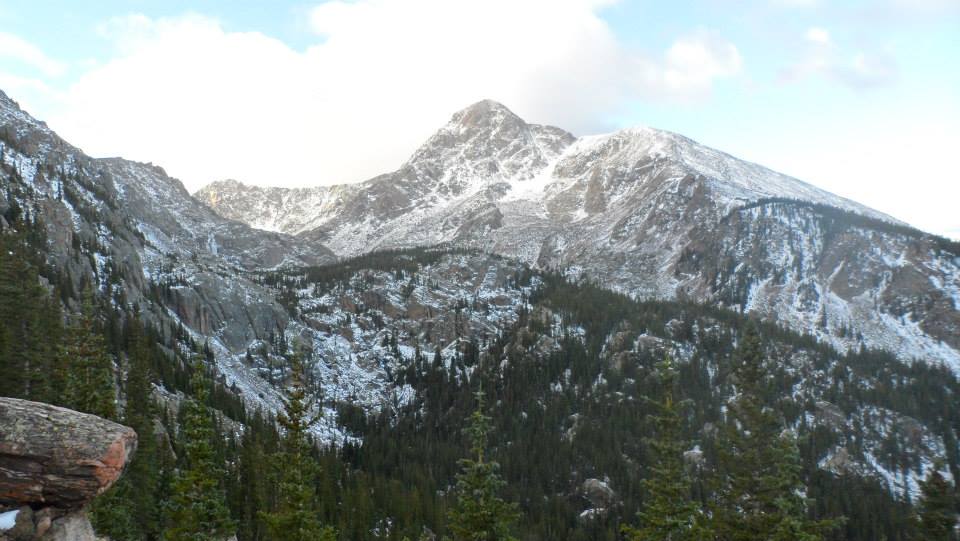 A secluded part of the Sawatch Range, Class 2 and 14,009' Mount of the Holy Cross is not visible from I70 and does not come into view until you are well within the wilderness. Named for the distinct cross shaped snowfield on its northeast face, Holy Cross was once named a national monument by former President Hoover, but in 1950 the mountain was returned to the Forest Service. Since its first publically released photograph in 1873, religious pilgrims, mountaineers, writers, and more have been flocking to Holy Cross. With four routes and trail access that are open all year, ambitious climbers can reach the trailheads via car or snowmobile. Although the summit is accessible by a long day hike, Mount of the Holy Cross is famous for endangering the lives of hikers. Over the years, numerous hikers have gotten lost and injured during their ascents; while many of the lost hikers were eventually rescued, a few have gone missing and their bodies are yet to be recovered. While the peak is certainly a challenging yet rewarding climb, it should not be taken lightly. The approach is long, the trail is indistinct, and hikers are forced to go up and down Half Moon Pass each way. This is one of the more brutal climbs in Colorado and has come to be called "Colorado's Bermuda Triangle."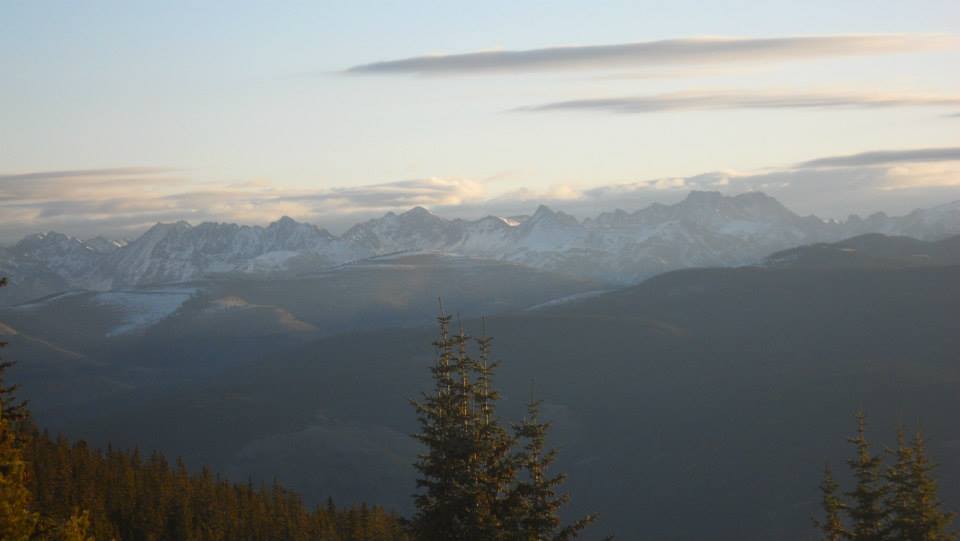 On October 5, 2014, my climbing partner Courtney and I decided to make the famous mountain our last summer, and first winter, ascent of 2014. We started our climb at 6:20 AM and had absolutely no clue what we were getting ourselves into – we were alone for the entire trip. The weather forecast for the day had predicted a high of 39 degrees fahrenheit and wind ranging from 20 to 30 miles per hour; so, we stuffed our packs full with cold weather gear, put on our warmest ski apparel, and headed into Holy Cross wilderness.
From the trailhead, we climbed over 1330' in just over a mile over Notch Mountain in order to reach Half Moon Pass. The descent down the path was not challenging, only long and tiring. The decline was gradual at first, leading us to believe that the return trip would be easy. However, about twenty minutes later we hit the drastic 1000' drop through the switchbacks. Just before the drop, the Summit of Holy Cross came into sight. It was gorgeous, but it was daunting just how far we still had to go. Once we finished the first descent and reached the basin we discovered that after two hours of tiresome climbing, we were now only 300' above trailhead elevation (a mildly discouraging realization). After reaching East Cross Creek Basin and carefully crossing the creek we followed what we believed to be the correct trail west and across several rather rocky areas up through the forest. Because of the recent snowfall, none of the forest floor was visible so we did our best to follow scarce footprints up to the timberline. This is where we ran into some real problems. Now, the footprints and trail had both become more and more difficult to locate and we had to look at a compass in order decide which way we needed to go. Ultimately, we were forced to decide whether or not it was safe to continue on towards the summit. At one point, when we could not locate the trail and knew that our energy was running critically low, we were prepared to turn around. Nonetheless, we had a breakthrough moment and decided that it was safe enough to push onward and upward. We followed a few carins up the ridge through deeper snow and an unstable tarus field –yes, extended scrambling was required. The last hour of the ascent was brutal but once the terrain finally eased, we found ourselves on top of the epic summit.
Because the famous cross basin is only visible on the east side of the mountain, we were unable to see the national treasure in person. That being said, it would have likely been covered by deep snow and not noticeable to the untrained eye. We were, however, able to catch fantastic views Angelica Couloir and other jagged ridges of the Sawatch. Interestingly enough, Angelica Couloir is the most difficult point on the peak to navigate and is also the reason why Holy Cross has been deemed Colorado's Bermuda Triangle. From the top of the couloir, hikers must be extremely attentive to ensure that they do not take the wrong way down.
Once on the summit, we rested briefly, posed for our victory photos and quickly vacated the exposed peak. Our retreat back to the trailhead was slow and steady. Although we were nervous about finding the correct path down the forest, we thankfully had no problems returning to the creek and Half Moon. Re-ascending Half Moon was nothing short of awful. By this point, we were starving (because we pulled a rookie mistake and left our lunches in the vehicle), exhausted, and in a fair amount of pain. We took the great ascent switchback by switchback, limping basically the entire way back to the top of Half Moon. Thankfully, the last hour of the trip was downhill once again and we made quick work from this point on.
The round-trip was 12 miles long and took us 8 hours and 20 minutes. Accessing the Holy Cross summit via the North Ridge required Courtney and I to climb 5,600 vertical feet – nearly 1000 of which was gained on the return trip on Half Moon Pass going back to Notch Mountain. Mount of the Holy Cross may be the third shortest 14er in Colorado, but what it lacks in height, it makes up for in sheer power. Although Courtney and I loved the trek and are very happy that we chose to tackle this gem, it is unlikely that either of us will ever return to the summit.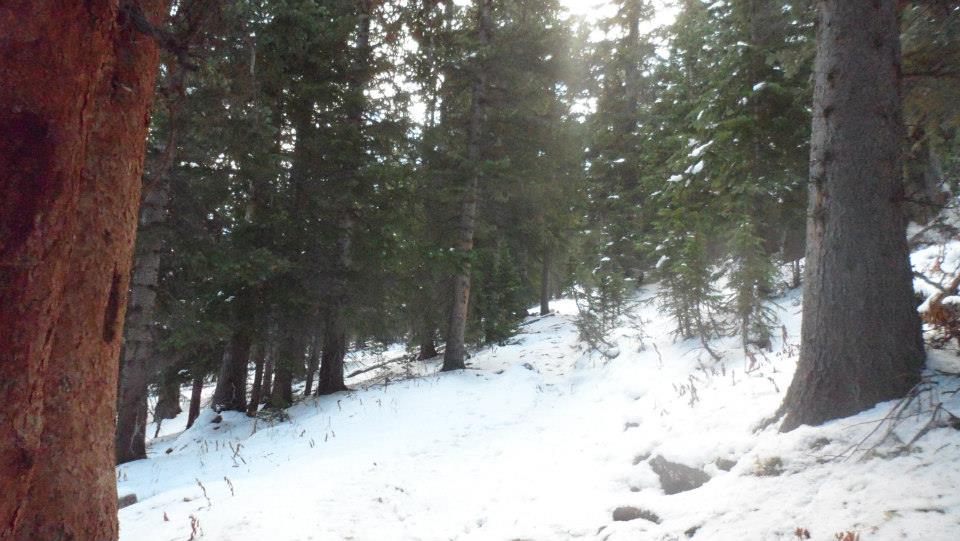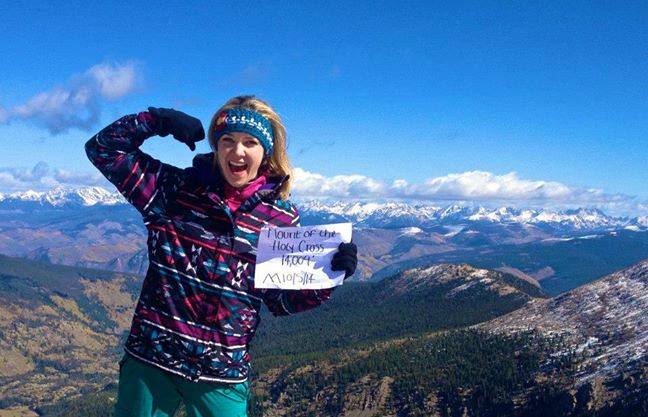 ©Jenna Lowery
Looking to go hiking in Breckenridge?
Directions From Breckenridge: Drive North on CO-9 and exit onto I-70 West. Continue on I-70 and exit on 171. Follow US-24 for five miles and turn right onto Tigiwon. If you reach the Eagle River then you have gone too far. There is a parking area and restrooms here.