Highly visible from I70 and reaching well above the Denver skyline, the GNT peaks dominate much of the Front Range. The popular mountains, Grays and Torreys, hold the distinction of being the only two 14ers on the Continental Divide. Highly accessible and situated close to the interstate, the two peaks attract more traffic than many of Colorado's 58 14,000 foot peaks and are perfect for experienced climbers looking for options to go hiking in Breckenridge. Despite their attainability, the GNT combo is a strenuous hike and should not be taken lightly. In fact, numerous hikers who set out to summit both peaks are unable to successfully finish the route. On July 12, 2014 my mission objective was simple: battle the other weekend warriors and conquer two more of Colorado's castles.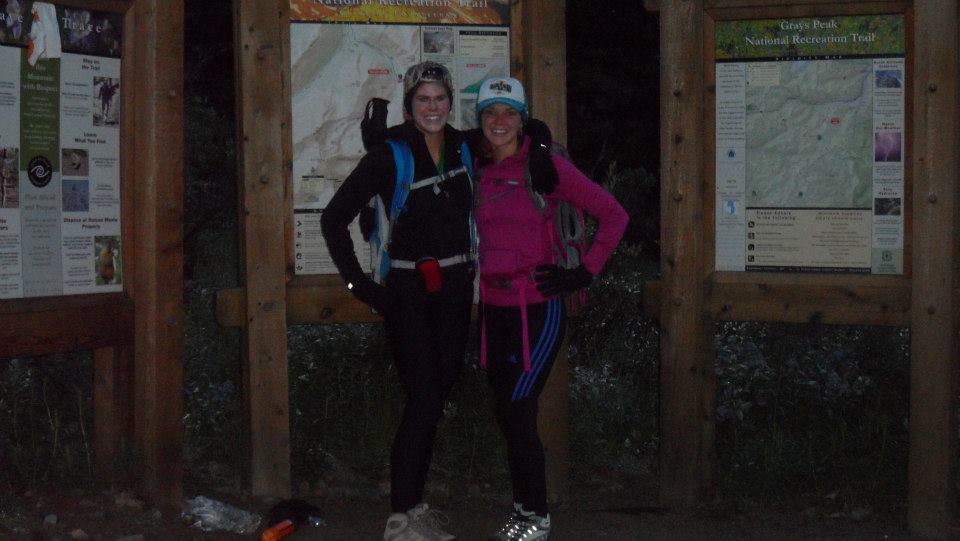 From the get go, this trip was unique. For the first time, I was accompanied by my best friend (and now my most valued partner) Courtney Hawker. Although I was still fairly new to the game, Courtney was just a flat lander who happened to be brave and crazy enough to agree to climb her first two peaks in one day. We kicked off our seven hour day around 530 AM, excited and not quite sure what to expect. Because we were starting before dawn, the parking area was fairly empty and we did not run into many other climbers until much later in the day. Our ascent started off by crossing over Steven's Gulch via a large, man-made bridge; the route would scale the gulch and take us into the upper valley just below the summit of Grays. We continued along a road-like trail up the gulch and although the pitch was only moderate, I decided to test out my new hiking poles. Walking across the basin was not difficult and we were making excellent timing. After stopping for a quick snack and picture break, the gradual ascent up the Grays northeast slope began. By now, we had excellent views of both peaks and newfound motivation to conquer the peaks. The climb to Grays was slow going and tiring. After climbing switchback after switchback, Cortney and I had had enough. Enough of the indirect summit approach and enough of the dozens of hikers we were now merging with. Because of the mountain's complexities, Grays can be summited from several routes and hikers often do not stick to the "standard" route.
About half an hour from the summit, we decided to alter the route. This was a poor idea and a prime example of not properly analyzing the terrain. Instead of continuing up and across the switchbacks, we decided to shoot straight up Grays' west face. After only a few moments of fighting the terrain and scrambling over unstable scree, we abandoned our plan and returned to the route. From here, we had approximately 1,000' feet of elevation left to gain. We pounded out the rest of the climb quickly and soon found ourselves standing on the 14,278' summit of Class 2 Grays Peak. Hoorah! Next, it was on to Torreys Peak. Once we had replenished our bodies we began to cross the Grays-Torreys saddle. Our first goal was to successfully hike down the Grays north ridge. At one point, we made a slight navigational error and ended up much lower than we wanted to be. Once we regained the lost elevation we continued across the broad saddle and passed by our last turn-around opportunity. Pushing on, we slowly made the straightforward climb to Torreys. More lose and rugged than Grays, Torreys forced Courtney and I to take our time. Once we reached our second summit of the day, we were approximately 4.5 miles out from the trailhead and exactly 14,275' feet from sea level. From Torreys, we could see threatening storm clouds that had formed behind the peak and our race down the mountain began. We descended back down Torreys until reaching the turnaround point at the saddle. From here, we had to pass over a very narrow and ice/snow packed ridge line. Thankfully, neither of us slipped and we were able to rejoin with the main Grays route – which was now heavily populated. Shortly before 1PM, we made it back to the vehicle just as the heavy rain started to fall. What excellent timing!
We were proud to say that we successfully climbed two 14ers in one day and could not wait to return to summit country soon.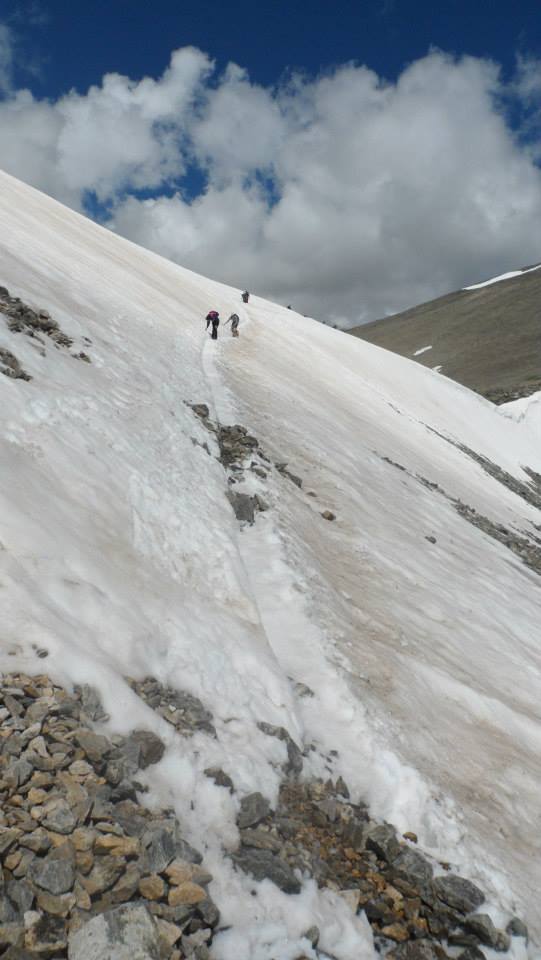 ©Jenna Lowery
Directions from Breckenridge: Follow CO-9 north to Swan Mountain Road. Turn right onto Swan and continue until joining with US-6. Follow US-6 east to Keystone and take the Montezuma Road exit. Follow Montezuma Road and CR-260 to the parking area.