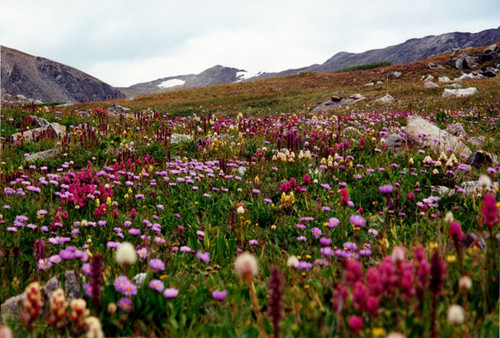 Hikes in Breckenridge
From late May through mid-September, Colorado's high country is ablaze in Mother Nature's most vibrant wildflowers that are not to be missed. Welcome to Breck, where elevations rise to more to than 14,000 feet at the the summit of Quandary Peak and where snow may still be melting well into June and July. Nonetheless, a determined wildflower seeker can find these hardy plants, one only needs to know where to look. Here are the top three scenic hikes in Breckenridge that will take you to destinations beyond imagination.
Mohawk Lakes

Mohawk Lakes is a gorgeous hike that is an absolute must for any serious hiker visiting Summit County for the summer season. Adventurers be wary, this is a 6.8 mile out and back hike with an ascent of 1,400 feet and is rated as difficult – look for cairns to stay on route and avoid crosscutting the flourishing vegetation. The Mohawks trail provides hike-able access to a beautiful area with rushing waterfalls, fields of wildflowers, and historical artifacts from Breckenridge's gold rush era.
Lower Mohawk Lake lies at treeline below Mount Helen; continental Falls pour from the lake's outlet and there is plenty of shoreline to explore. Hikers who are limited on time or energy can stop here. Those who wish to continue may follow the steep and rocky trail through treeline towards Mohawk Lake. Mohawk Lake fills a large, steep-walled bowl with great views back down valley of Lower Mohawk Lake and Mount Helen.
As you wander around the wetlands, be sure to look for alpine wildflower species. Artic gentian, a native flower to the area showcases inverted bells of white with blue stripes along the sides of its petals. In boggy areas, look for the red elephant figwort, white bog orchid, and queen's crown. On drier slopes beside the trail, columbine clusters are plentiful.
*Allow at least five hours for proper exploration.
Access from Breckenridge: Begin at the Spruce Creek Trailhead (1.7 miles long) and connect with Mohawk Lakes trail. This is the least strenuous part of the hike and takes you through an aspen fore.
Cucumber Gulch Wildlife Preserve

Located just one mile off of Main Street, Cucumber Gulch is a designated wildlife preserve protected by the Breckenridge Town Council and the Breckenridge Open Space Advisory Commission. It is incredibly important for visitors to understand and appreciate the vulnerability of this area, which contains 77 acres of fen wetlands. Cucumber Gulch is home to Colorado-endangered toad, moose, elk, deer, mountain lion, beaver, and over forty-seven species of birds including Wilson's Snipe, Brown Creeper, Wilson's Warbler, and Lincoln's Sparrow. In addition to the numerous amounts of wildlife that can bee seen, wildflowers are abundant throughout the area.
There are several different trail options throughout the Gulch, all of which are clearly marked so that visitors do not venture off of the path. A standard route is approximately 2.9 miles long and features great views of meadows and ponds.
Access from Breckenridge: From Main Street, turn left on Ski Hill Road. Continue on the road and ultimately turn left onto Penn Lode Drive.
McCullough Gulch

With its scenic views and cascading waterfall, it is hard not to mention McCullough Gulch when talking about great hiking spots in Breckenridge. Although a  popular destination for ski touring, most people choose to enjoy McCullough in summer months once much of the snow has melted. The route is 2.7 miles to the first lake with unimproved travel to the upper lakes. The gulch tops off at 11,918 feet, and hikers can expect to gain around 912 feet of elevation on the ascent. Be sure to keep your eyes peeled for moose, deer, porcupine, and other local wildlife. There are also over 130 species of blooming flowers on this route, including several thriving riparian plants. Some of the more common varieties on the hike include sunflowers, delphiniums, and the mariposa lily.
*Travel beyond Upper Blue Reservoir is strenuous and requires basic route finding skills, especially with lingering snow and overgrowth. Because the lakes are located in broad open tundra, please be mindful of changing weather. Only experienced hikers should venture into the upper valley.
Access from Breckenridge: Head south on Highway 9 for 7.6 miles to Blue Lakes Drive and turn right. Drive for about 100 yards to McCullough Gulch Road and turn right, then continue for 2.2 miles, staying left at the y-junction.
*Because of the extreme elevation of these hikes, each of the trails will bloom at different times and with different wildflowers. You can find a map of hikes in Breckenridge featuring trails by difficulty at our rental office. Visit out website HERE.
*Featured photo courtesy of Summit Post.