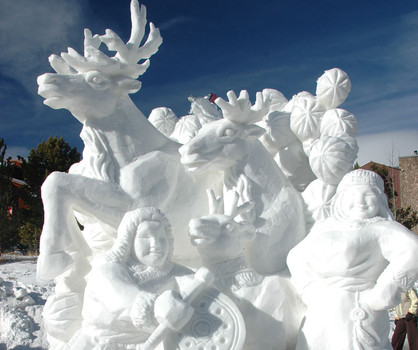 Snow Sculpture Championships
Coloradans consider winter to be our most precious season and we love to celebrate all that comes with it. This winter Breckenridge, Colorado will celebrate its 26th year as the host city for the famous Budweiser International Snow Sculpture Championships. Snow artists from around the world will compete January 26 – January 30 in Breckenridge at this huge sculpting event. Sculptures, which remain on display through Feb. 7, 2016, start as 12-foot-tall, 20 ton blocks of snow. Over the course of five days and 65 hours of hand carving, competitors in 16 teams from all over the world work like maniacs to carve the gigantic ice blocks into large three-dimensional works of art. The Championships take over the Riverwalk Center area for two weeks — one week of competition and one week of viewing the finished pieces.
Breckenridge visitors who arrive in early January will be given the opportunity to assist with competition preparation. Each year, families gather one week prior to the competition to help stomp snow for the ice blocks. Believe it or not, it really does take an entire week to get the ground and ice blocks ready for carving. Then, once final provisions have been completed, volunteers become spectators as the professionals take over and begin to work their magic. Spectators are asked to cast an anonymous vote for their favorite sculpture – this is not always an easy decision! Last year, the teams raced against the clock to produce some of the most awe-inspiring sculptures yet. Team Minnesota took first place with their piece depicting Mother Nature in an "Ojibwe" filter, summoning the power of the eagle's wings to stir up the wind and waves. Second place went to Team Mexico for their sculpture which symbolically explained the relationship between Mother Earth and Father Sun. What will this year have in store? While the teams do not announce their plans ahead of time, we can safely predict that the 2016 championships will be even more competitive and more impressive than the last 25 years!
Keeping with the long-standing tradition, the 2016 Snow Sculptures will be located in the area around the Riverwalk Center at 150 West Adams Avenue, Breckenridge, CO 80424. Please be aware that Breckenridge is a snowy, high alpine environment. In order to be safe and comfortable during the event, dress warmly and appropriately with high traction shoes. Lodging for this famous event does book up quickly, visit Ski Colorado to lock your dream trip in today.
Snow Sculpture Schedule
Stomping Week 1/18/16 – 1/22/16: Volunteers come together and stomp the ice blocks for the competition
Sculpting Week 1/26/16 – 1/30/16: Sculpting begins on Tuesday at 11 AM with a gunshot and ends on Sunday at 10 AM. The awards ceremony will be held on Sunday at 3:30 PM
Viewing Week 1/30/16 – 2/7/16: Stop by to view the sculptures (weather permitting)