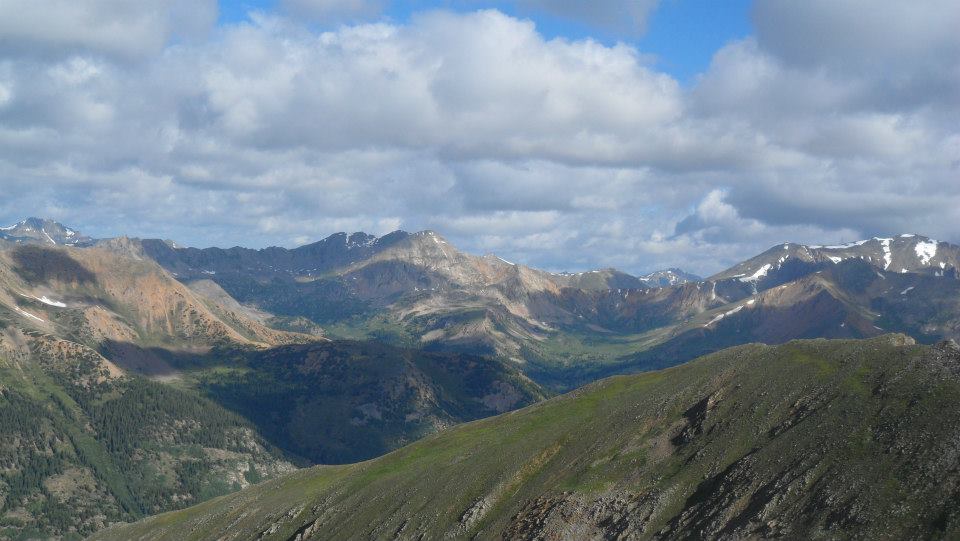 Ski season may be right around the corner, but climbing season is not over and hiking in Breckenridge is still at its prime! Located in the Collegiate Peaks Wilderness Area of the San Isabel National Forest, Huron Peak predominately sits in the western corner of the Sawatch Range. Huron Peak has the second lowest elevation out of all of Colorado's glorious 14,000 foot peaks. Although it only meets the 14er requirement by three feet, Huron is perhaps one of the most beautiful climbs that I have completed thus far. This particular mountain also happens to be the furthest peak from a paved road in all of the Sawatch Range; this only adds to the beauty of Huron – while standing on the summit, hikers cannot see a single man-made road and only the route down to tree line is visible. The following route description will take climbers up Huron's gentle northeast ridge. While the route is particularly easy for a 14er, do not underestimate the amount of time and resources that successfully summiting will require. Despite the well-maintained trail and the relatively short ascent, there is no substitute for getting an early start putting as much of the mountain "behind you" as early in the day as possible.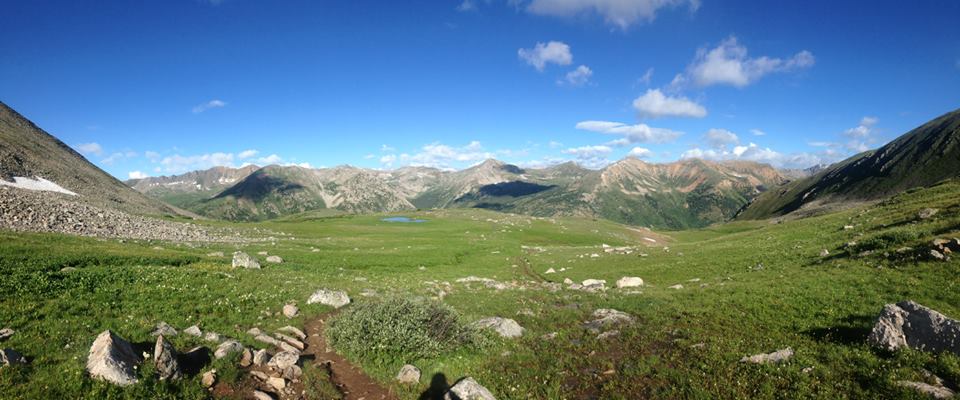 In terms of memorability, my climb of Huron Peak rivals Mount Elbert. On July 22, 2015 my significant other, David, and I embarked on a great relationship building experience.  We started our ascent just before 6 AM from the official, upper 4WD trailhead. Hikers with small, low-clearance vehicles will need to start from the gated Winfield trailhead. If you start from the upper 4WD trailhead, you will gain 3,500' of elevation and the route will be 6.5 miles round-trip; if you start from the lower trailhead, you will gain 3,800' of elevation and the route will be 10.75 miles round-trip. From the sign at the upper trailhead, we hiked for half a mile on easy forest terrain.  We reached a small, unnamed creek crossing and had no difficulties navigating a safe route across. From there, we made quick work of the route and continued through the forest via a series of steep switchbacks. Just after 730 AM we reached a high basin in the forest and soon found ourselves leaving the dense woods. Hiking out of the basin and onto Huron's upper slopes was easy so we seized the opportunity to stop for a quick snack break.
Now, well into the morning, David and I pushed ourselves to continue up the crest as quickly as possible. Much to our dismay, and my extreme worry, storm clouds were beginning to roll in. As a very experienced hiker, I used past knowledge and my best judgment to deem that we were safe to continue on to the summit. Once we had concluded that we wanted to continue our trek, David took the lead as we headed towards the northwest face. Here, we came to a fairly steep and rocky face but had little problems making it up and onto the more level terrain. Once on the northwest face we encountered sporadic areas of trail erosion but nothing extreme or challenging. Now, less than half a mile from the summit, the storm clouds were darkening and the temperature was dropping rapidly. Because we were so close to the summit, we chose to continue on. That being said, we saw numerous hikers at significantly lower elevations making the same decision. If we had not been so far into the climb, we would have deemed the weather conditions unsafe and would have been forced to turn around.
David and I raced to the summit as quickly as humanly possible. The crux of the route, the last 300 feet, is rather rugged in places and some sections of the trail have mild exposure but nothing that I consider to be especially dangerous. Finally, around 1030 AM, we reached the summit. Great success!  To put it frankly, the commanding views from Huron's summit are breathtaking. From the top of the peak, climbers have unrivaled sights of the Three Apostles and most of the surrounding Sawatch. Because both David and I were cold, hungry, and anxious to avoid the brewing storm, we took a few celebratory photos and then vacated the premises. Once we had left the most exposed part of Huron's ridge, we hunkered down behind a rock structure and, for the first time all day, sat down to relax and enjoy our lunches. During our twenty minute break we met several hikers who were still making their way to the summit. We also were able to enjoy a great sighting of a lone mountain goat. Although I have seen too many mountain critters to count, this was David's first close-up encounters with one of the docile goats.  Once we had finished snapping photos of our goat friend, we decided that it was time to get the heck off of the mountain! The descent down was quick, painless, and a great experience for us. Thankfully, the entire journey only took us six hours and we managed to successfully evade the nasty storm looming nearby. All in all, I had a great time conquering Huron with David; I always love sharing my passion for mountaineering with others.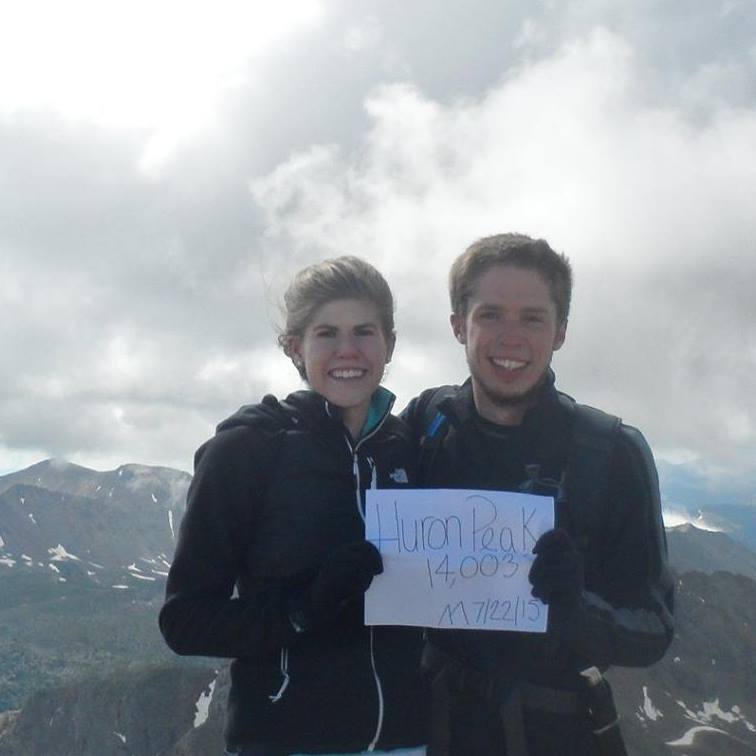 ©Jenna Lowery
Directions from Breckenridge: Drive north on CO-9 and merge onto I70-W. From here, take exit 195 toward Copper Mountain and merge onto CO-91 for 22 miles. CO-91 will turn into US-24. Follow US-24 for another 20 miles and turn right onto CR 390. There is parking here for a few cars. If you have a good 4WD vehicle you can drive 2 more miles up the rocky dirt road and cut about four miles off the climb. 390 is a dirt road but is not impassable by 2WD vehicles. On 390, drive 11.8 miles to Winfeld then turn left to reach the lower trailhead.