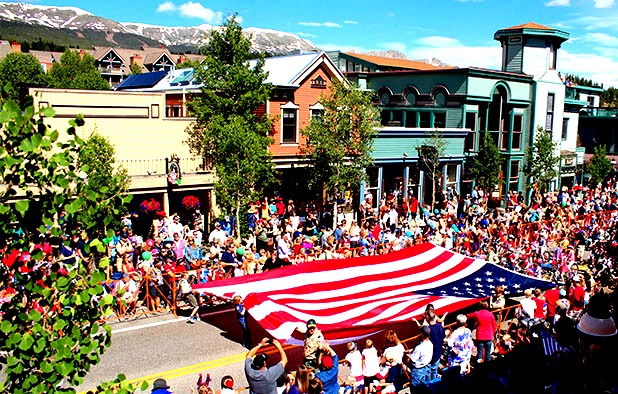 Fourth of July Breckenridge, Colorado
The Aspens are in full bloom, the sun is shining, and it is the perfect time of year to light up your summer season in historic Breck this July. Come, celebrate our nation under blue skies and surrounded by the Tenmile Range and Continental Divide. With roots that trace back to the Pikes Peak Gold Rush of 1859, the ideal all-American destination is Fourth of July Breckenridge. This year, the town will celebrate the holiday with a host of activities, wonderful food and drinks, lively entertainment, and an epic fireworks display. And yes, we are offering up to 20% off of our gorgeous condominiums, town homes, and private homes.
Fourth of July Breckenridge Events
A true summer celebration featuring free live entertainment, the annual parade, Breck's celebrated fireworks display, paired with endless options of summer fun both on and off of the mountain. Holiday festivities will kick-off on July 2, 2016 with the nationally recognized 33rd annual July Art festival and will continue all weekend long. While there will be boundless options for fun and adventure throughout the weekend, the main events will occur on Monday, July 4th.
Independence Day 10K Trail Run – Don't miss this favorite kick-off to the 4th of July weekend. The race offers some of the best views in Breckenridge and will begin from Carter Park at 7 AM. The race is limited to 400 people and usually sells out, register HERE.
The Firecracker 50 Mountain Bike Race – Hungry for a taste of what the locals ride every day? The course feature multiple laps, each with 4,000 feet of climbing. There are grunty hill climbs, a couple of tough lungbusters, some terrifyingly steep descents, and plenty of contouring flume and singletrak. This event is the kick-off to the famous Main Street Parade!
Fourth of July Garden Party – Sponsored by the Breck Heritage Alliance, this wonderful garden party is known for their delicious breakfast spread, powerful mimosas, and for having the absolute best spot in town for parade viewing right on the  Barney Ford House Lawn. Reservations can be made online HERE.
Main Street Parade – The official parade will start at 10 AM with the Red, White and Blue Color Guard, just after 800 bikers pedal down Main Street. Floats will begin on the north end of town and finish on the south side of Main. Be more than a spectator and register to participate HERE.
National Repertory Orchestra – For almost 20 years, the Town of Breckenridge and National Repertory Orchestra have collaborated to present a Patriotic Concert each July 4th.  The concert is TBD but will begin at  8 PM.
Fireworks – Weather permitting, a professional display will be launched from the North Gondola Lot. While the show will be visible from all of town, some of the best views will be from the Riverwalk Center and Boreas Pass. The backdrop for the fireworks display will be the Tenmile Range
Fourth of July Breckenridge Lodging
Ski Colorado has plenty of lodging options for the holiday weekend, but units are booking up very fast! In-town lodging affords you the convenience of being able to walk to all Fourth of July events. We also offer several private rental homes that offer seclusion and relaxation.
When booking in for stays through July 9, enjoy up to 20% off! Book directly online for a studio, one bedroom, or two bedroom for 15% off by using code 4July15 or book a three or four bedroom for 20% off by using code 4July20.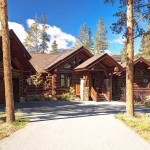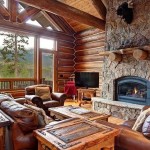 The Highlands is an exclusive development just north of downtown Breckenridge. These alluring vistas enjoy access to wetlands, open spaces, wooded parks, and historic flume trails.
Our large four bedroom/4.5 bathroom mountain home offers commanding views, two family rooms, a large deck, private hot tub, and a fully stocked gourmet kitchen.  BOOK NOW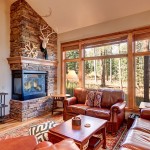 Peak 8 Village is the place for luxury on the mountain. These spacious homes offer stunning natural surroundings and incredible access to the Summer Fun Park.
Our three bedroom/2.5 bathroom borders Cucumber Gulch Wildlife preserve and provides a Jacuzzi master tub, two small decks, washer and dryer, and a private garage.  BOOK NOW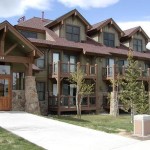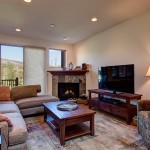 The Highland Greens town homes are located in a beautiful mountain valley directly next to the lush greens of the Jack Nicklaus designed, 27-hole golf course.
Our 3 bedroom/2.5 bathroom town home features a private deck with views of the Tenmile, a private hot tub, in-unit laundry room, and a spacious dining area for family gatherings. BOOK NOW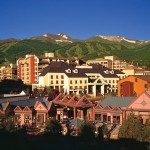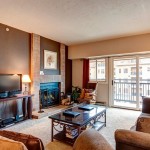 Village at Breckenridge condominiums are clustered at the Peak 9 base area, less than one block from historic downtown, and offer unrivaled access to Maggie Pond and the Blue River.
Our condos range in size from one bedroom units to three bedrooms, plus a variety of studios units for your comfort and convenience. BOOK NOW
*Featured photo courtesy of Jessie Unruh, Breckenridge Tourism Office