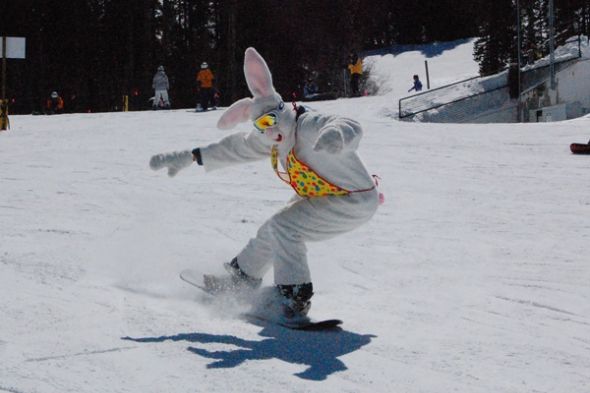 Easter in Breckenridge
Snow bunnies make way; the Easter Bunny is coming to town. Easter is right around the corner and it is time to finalize your weekend exodus from the city and experience life at 9,600 feet! Skiing late March may be considered low season, but that is not necessarily a bad thing – Whether you celebrate Easter as a secular day or a religious holiday, be assured that Easter in Breckenridge offers a day of fun, snow, family, and sun.
Sunrise On-Mountain Easter service
You will not want to miss out on one of the most spectacular Easter services on the planet.
No lift ticket will be required to partake in the event. Meet at Quicksilver Chairlift to upload at 6AM (no ski or snowboard gear permitted). The service will take place at TenMile Station and is scheduled to begin at 6:30 for approximately 45 minutes.
Coffee, juice, and breakfast burritos will be available for purchase before the service begins.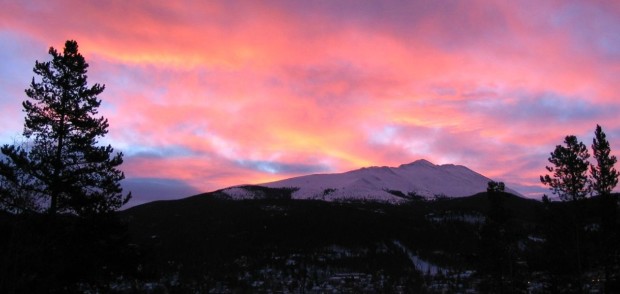 Easter Egg Hunts
Yes, that was plural. Because life is just better in the High Country, Summit County will put on not one, but three Easter egg hunts this year. Go for eggs or the Easter Bunny himself on the mountains and around Summit County with egg hunts, photo opportunities, and more.
1. On the Mountain – Breckenridge Ski Resort
The Easter Bunny will be hard at work hiding colorful Easter eggs across Peaks 8 and 9 on Sunday morning.
Ages 10 and younger can participate in hunts on both peaks starting at 9:30 a.m. From the Peak 8 base area, walk skier's right towards Rip's Ride. Upon approaching the lift, continue skier's right up to the hunt area. Hug the fence line to a small hut that marks the beginning of the area. It is located directly across from the Beaver Run parking lot.
Toddler egg hunts for ages 3 and younger start on both peaks at 10 a.m. The first hunt is skier's right of the Guest Services/Activities, and the second is near Quicksilver at the Peak 9 base area. For the toddler hunts, a flat, groomed area will be protected by fencing and open to children ages 3 and younger only, in an effort to provide a calm area for little tykes to pick up eggs. Eggs will be laid out on top of the snow for easy picking, and parents will be allowed in the area to assist.
Do not be alarmed when your child's eggs are "empty" – take them to the tent at the base of Peak 8 to exchange for a wide range of prizes. Children will have the option to keep the eggs or return them to an egg-disposal area for reuse next year.
2. Around Town -Frisco
For families who are not on skis, this morning hunt is a must. The town of Frisco is just a short hop and a skip down Highway 9, located approximated twenty minutes from the heart of downtown Breckenridge. This is an Easter event tailored specifically for the little ones – ages eight and under are invited to hunt for candy-stuffed eggs throughout the Frisco Historic Park and the Frisco Town Hall areas. The historic schoolhouse bell will toll to signal the start of the three egg hunts. Main event is free to all children, but children over the age of nine are encouraged to participate in Copper Mountain's hunt instead.
3. Around Town –Copper
Copper Mountain hosts the largest egg hunt in all of Colorado! Located six miles from Frisco, Copper Mountain's egg hunt will bring in egg hunters from all of the state. Over 50,000 eggs will be up for grabs in Center Village. Do not worry about your little ones getting lost or trampled, each search is dividing by age group. Prizes range from a few special "Copper Eggs" hidden on the mountain to other rewards, including candy, shopping sprees at Copper, season passes, gear, gift certificates and even a GoPro.
Need more? Once the hunt is over, The Easter Bunny himself will be sticking around for photos.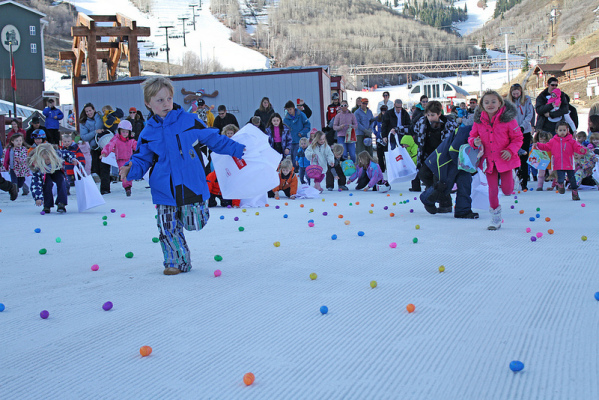 Bring Your Skis
Breckenridge has extended the 54th ski season! Now open through April 24, this is big news for our mountain town.  Nearly all of the American West has enjoyed an excellent winter, as the El Nino weather pattern has kept the storm cells brewing. But, even better, Breckenridge is known for having the best snow in Colorado.
So, what are the perks of spring skiing? For starters, spring is not a busy time on the mountain. This translates to shorter lift queues and more time cruising downhill; it also means there will be less people to avoid on the slopes. This time of the year is also easier on the wallet: Lift ticket prices have started to come back down and Ski Colorado is offering plenty of deals on Easter accommodations.
While the snow quality may not be quite as good as mid-winter, big spring storms are quite common and March/April have historically been Colorado's snowiest months. Keep in mind there is also a whole winter's worth of snowfall as the base.  Plus, Breckenridge Ski Resort has received almost three feet of fresh snow within the last week!
Easter Lodging Deals
Our spring rates will cover your lodging needs! Uncover deals and discounts by visiting www.skicoloradovr.com
Mention this posting to one of our booking agents to receive an additional percentage off.
With super activities, fresh snow, plenty of sunshine, and great lodging deals the town of Breckenridge has everything you need to make your Eater trip a great ski success.