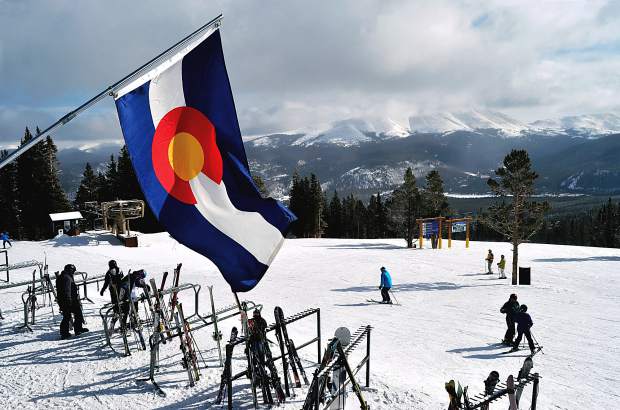 Breckenridge Ski Resort
The 54th season at Breckenridge Ski Resort is in full swing and with the accumulation over four feet of fresh snow in the last seven days, it is no mystery why everyone has the itch to get out and play. The chairlifts on Peak 8 have been operating since Friday, November 13 and people could not be more pleased! Breck started the season off strong with 80 open acres of skiable terrain and a spectacular snow base. In addition to great early season conditions, snow lovers can also be thankful for one other item this holiday season: Breckenridge opened Peak 9 late last week. Whether you are a mountain regular or are coming to shred powder for this first time, you should be in euphoria – at least 324 acres of terrain on 22 runs will be open for Thanksgiving fun! So, forget the turkey and exchange your mashed potatoes for a day of thrill and family-time.
Thanksgiving Outlook
Traditionally, Turkey Day draws far less crowds to the slopes than other winter holidays. This is excellent news for everyone coming to Breckenridge this week – more snow and fewer crowds are always a killer combination in Beck ski country.  In fact, Colorado Vacations has pegged Breckenridge as the number one ski resort to head to for Thanksgiving. According to their write-up, "[This] week is looking like it will provide fantastic conditions for early-season skiing and riding…. As you plan Thanksgiving festivities, make sure you leave plenty of time to get out on the hill." With their recommendation in mind, we couldn't help but wonder which runs we will hit first on Thursday. Here are a few of our recommendations that you absolutely should not skip out on:
Frontier: A Peak 9 favorite. Classified as an easy green, this direct route to the base area offers varying steepness over smooth terrain. A popular run for warm-ups and first-time skiers, Frontier is perfect for skiers and riders looking to comfortably meander down the mountain. Access the route viea Quicksilver Super 6.
Claimjumper: A big name around Breckenridge, Claimjumper is a well-groomed blue run off of Peak 8. The run features wide turns, favorable tree conditions, and excellent views of the surrounding terrain. Access Claimjumper run via the Colorado Superchair .
High Anxiety: Located on Peak 8, this single black diamond is guaranteed to get your legs pumping. High Anxiety is marked as a black diamond run because of its varied terrain, grueling moguls, and hard to spot fall lines. On a clear day, the run features great views of Baldy and downtown Breck. Access this run via the Colorado Superchair.
Although these runs were some of our favorites from last season, we encourage you to test them for yourself! The lifts are scheduled to open at 9 AM on Thursday morning and super snow conditions combined with the forecasted blue skies will make for perfect conditions on Thanksgiving Day. Meet you on the slopes.
For details on last minute lodging deals, visit Ski Colorado and browse our available inventory. We'd love to book you in right by the slopes!