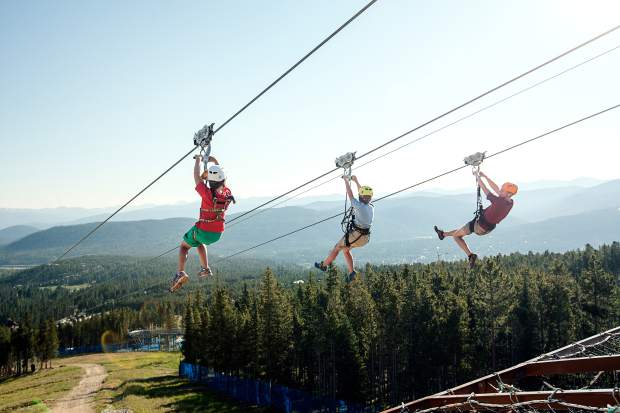 Breckenridge Summer Fun Park
Breckenridge has a reputation for adrenaline-pumping adventures and epic high-alpine tourism, but the town is so much more than just a winter hub for powder hounds and park rats. Despite some very stubborn snow, Breck will kick-off the summer season on June 10, 2016 with the annual opening of its mountain adventure park: Breckenridge Summer Fun Park. This park is very well-known and boasts some of the most unique activities in the county. From the TenMile Flyer Zip Line, to pony rides, to mountain bike trails that top-off above 11,000 feet in elevation, the park truly has it all.
Located directly on the slopes of Peak 8, the park is easily accessible by the free Breck Connect Gondola and is considered to be one of the best summer activity destinations for kids. While most of the attractions are geared towards entertaining children 12 and under, there are also great activities for older youth and adults. Some of the most popular recurring events include:

Alpine SuperSlide –Riders can choose between three different 2,600 foot long tracks to speed down the mountain on. More experienced participants should try the giant slalom track with multiple dips.
Bike Haul: Special bike racks allow riders to haul their mountain bikes up to the top of the mountain.
Breck 4×4 Tours – Enjoy a rough and scenic 90-minute tour of Peaks 7 & 8 in an open-air 4×4 vehicle. Caravan up the mountain with seven of your closest friends to reach the very top of the peaks.
Gold Run Coaster – The only alpine coaster in the state of Colorado. Ride solo or with a friend and journey down 2,500 feet of elevated tracks around the mountain.
Maze – Do you and your kids have what it takes to escape Colorado's largest human maze?
Off-Road Segway Torus – Join in on a guided Segway tour to learn about Breck's rich cultural history and curious local wildlife.
SuperPutt – With Peak 8's stellar views and high altitude, this is sure to be the most breathtaking game of mini-golf you have ever played.
TenMile Flyer – Hold on to your handle and get ready to fly through the air on Breck's 50 foot tall dual-stage biplane zipline.
 Fun Park Hours  
Open 7 days a week:
June 10 – September 5, 2016.
9:30 AM – 5:00 PM
Open Friday – Sunday:
September 9 – September 11, 2016.
September 16 – September 18, 2016
* A Peak 8 All-Day Fun Park ticket is valid for one day of unlimited rides on most Fun Park activities, including the Gold Runner Alpine Coaster, Alpine Superslide, SuperPutt Mini-Golf, Mountain Bike Park, Scenic Chairlift, Rockpile Climbing Wall, Mineshaft Maze, SuperBungee Trampoline, and Ripperoo's Bounce Corral. Book your adventure pass HERE.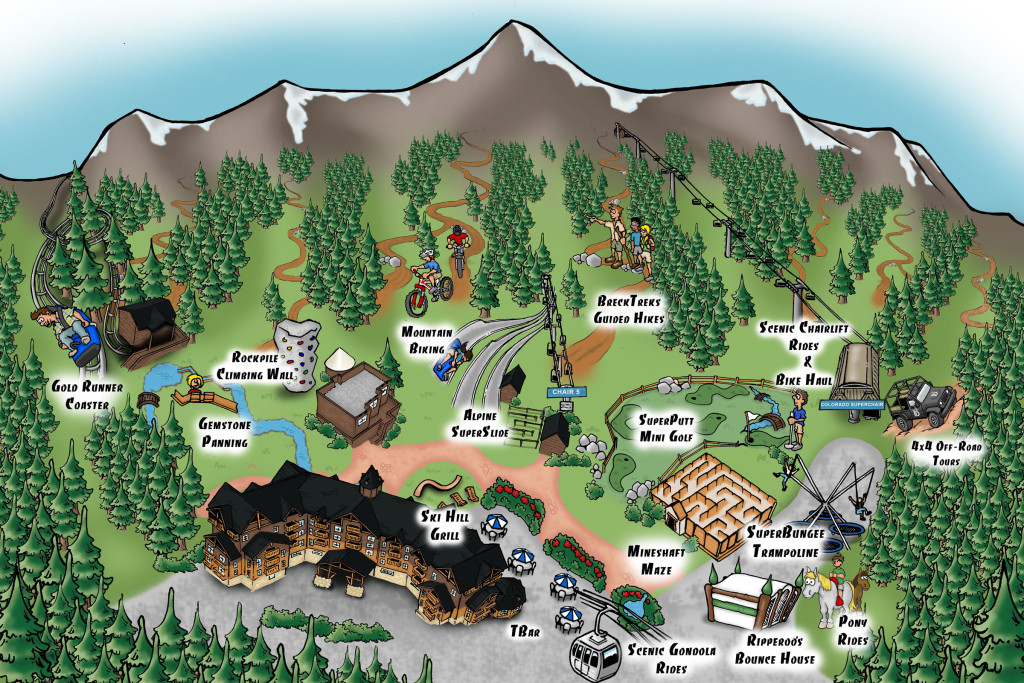 Summer Tips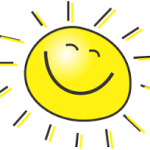 Sun Exposure: The fun park sits at 9,600' and exposure to the sun's rays is 40% more intense than it is at sea level – holy smokes! We recommend applying sunscreen with a sun protection factor of 15 or higher, eye protection, and a hat. Don't forget to dress your little ones for the heat, too.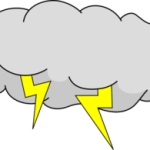 Lightning and Thunderstorms: Afternoon thunderstorms are common in the mountains and may cause interruptions in summer lift operations. Take proper precautions when you see or hear a storm developing: seek shelter immediately, keep away from ridgelines, chairlifts, lift towers, lone trees, and signage.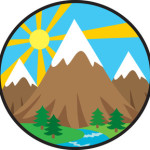 High-Altitude Environment: If you are traveling from a lower elevation then your body may tire more easily and will be more susceptible to environmental triggers. Take it easy for the first few days in town – drink plenty of water and avoid caffeine and alcohol. Symptoms of high altitude sickness may include headaches, nausea, and dizziness, loss of appetite, restless sleep, coughing and difficulty in breathing.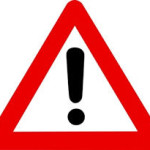 Safety Restrictions: Most activities have height, weight and age requirements. If you are pregnant or have heart, back/neck or other serious health issues, you should consult a physician prior to participating in any activity. Most activities require guests to be ambulatory and be able walk on their own.
*Featured photo courtesy of visitbreckenirdge